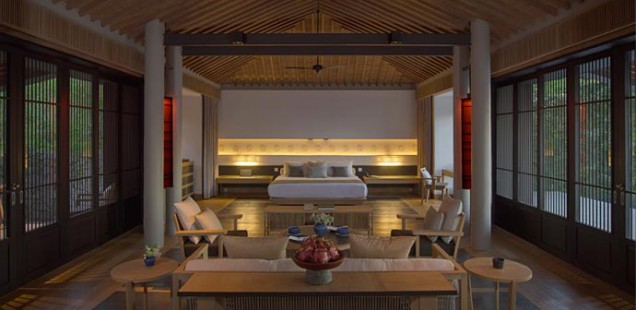 AMANOI RESORT AND SPA, VINH HY BAY, VIETNAM
Vietnam is a fascinating country to visit for its history with the United States and for its own history.
Travelers typically tour Ho Chi Minh City and Hanoi, dodging motorbikes between visits through historic quarters, local markets, and enchanting temples. The newly built hotel, Amano'i, is situated on a white-sand beach overlooking Vinh Hy Bay, northeast of Ho Chi Minh City on the coast of Nui Chua National Park. In fact the resort has 31 guest pavilions, a number with private swimming pools, and five Aman Villas, all positioned on the hillside with impressive views. AMANOI includes a full-service Aman Spa and a Beach Club.
If you're here to get out and see the best of Vietnam's central coast, they'll happily show you the way, whether that means a snorkeling or diving excursion or a trip to the national park; and if you're here to be blissfully sequestered by the poolside, feasting on fresh, contemporary Vietnamese cuisine, they've got you covered there as well.
How to Get There:
Fly in from Ho Chi Minh City, Hanoi, or Danang in under two hours to Cam Ranh Airport. The 90-minute drive from the airport to Amanoi showcases a coastline that justifies the detour.
Rooms from $750$ / night
For reservations and more informations visit the Aman Resort website:
www.amanresorts.com
The writer was guest of the Hotel
Photos: AMAN RESORTS